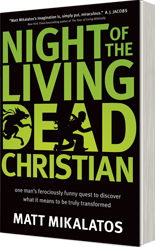 Zombies and Werewolves and ... Jesus?
Oh my!!
I don't think any book has made me laugh out loud as much as Matt Mikalotos' ridiculously funny romp through theology, "Night of the Living Dead Christian". When I wasn't laughing, I was gasping in horror at the very real monsters he reveals.
Matt himself is the main character in his novel. He finds himself teamed up with a mad scientist, a werewolf, a vampire, and an android in a hunt for monsters in his own neighborhood. He finds more than he bargained for behind the closed doors and leaking hearts of people he thought he knew.
Interspersed among the chapters are narratives and confessions from the star of the novel, the werewolf Luther. Luther hates the ferocious and untamable side of himself that grows fangs and fur, and snarls, bites, and tears when his anger (and the full moon) takes control. Despite his loathing for himself and his striving to change, he finds it impossible to prevent his inner monster from emerging when he is provoked.
"One man's ferociously funny quest to discover what it means to be truly transformed
" is the subtitle of Matt's novel, and it sums up the whole very nicely. He not only attempts to answer the age-old question the rich young ruler posed to Jesus, but in my opinion, succeeds. "What must I do to be saved?" The climax is startling, painful, and spiritually eye-opening. The Biblical words "die to self" become much more than oft-repeated Christianese and take on life through a very vivid scene of true transformation. The final chapters had me in tears.
From casual church goers to "born again" Christians, and everyone in between, surely all readers will recognize someone or some group they know shallowly hidden in Matt's monstrous allegory. Seekers and nonbelievers might miss some of the "inside" humor, but I'm sure they, too, will be enthralled, and cannot miss the message Matt drives home.
If you think monsters only exist in fiction, you might change your mind after reading "Night of the Living Dead Christian". You might find that what you thought was fiction is actually a wolverine truth hidden in sheep's clothing , and monsters are taking up residence much closer than you are comfortable with.
Leave a comment on this post for a chance to win your own copy of this book!!!
Find out more at
http://www.tyndale.com
, and be sure to visit Matt at his website
http://mattmikalatos.com/
.
Watch the trailer and hear what Matt has to say...
Tyndale House Publishers has provided me with a complimentary copy of this book.
Catrina Bradley
"God rewrote the text of my life when I opened the book of my heart to his eyes." Psalm 18:24 (Msg)