God is perfect Love. And perfect Love is nothing like the emotional feelings we know as humans.
Perfect Love acts .. despite feelings.
And God acts in a huge way.
When God created the earth and all that inhabit it, His plan wasn't to create some sort of human-farm in a glass box that He observed from afar. He wanted a relationship with His creation. He created Earth for man, and He created man to share His perfect love with. He knew that He would one day become a physical part of His physical realm
And God knew the hearts of His fallen children; He knew how fickle they would be even before they turned away from Him time and again. He knew. And He loved them. With that active kind of love.
Perfect Love.
By His own Law, only a spotless sacrifice could reconcile his children to Him. And only One could satisfy the requirements to fulfill that law.
Himself.
Jesus, God the Son, had to empty Himself of all that came naturally to Him. While still retaining His full Godhood, He laid down its power and its glory at the Throne in order to put on mortal flesh, pick up the cross of pain, betrayal, and execution, and carry it to Calvary.
The Word became flesh and made his dwelling among us. We have seen his glory, the glory of the One and Only, who came from the Father, full of grace and truth. John 1:14

If we want to be filled with the power and goodness, the grace and truth, the
peace
, of Jesus Christ, we likewise must empty ourselves of all that comes naturally to our carnal man. Pride, vanity, greed, lust. Execute them. If we want to follow Christ, we must pick up the cross of self-sacrifice. The burden is light, though - Jesus will carry it up that rocky hill for us.
Jesus descended from His rightful place, His Holy throne, to enter into the dusty existence of those whom He created and loved so He could carry the burden of our sins and endure the rightful punishment due us. He suffered the consequences of
our
sin so we could be spared eternal death and separation from His presence. He became flesh in order to put to death our sinful flesh.
On December 25, Christians celebrate with rejoicing the day the Word became flesh, when God "put on skin" and came to dwell with us. We celebrate the fulfillment of the promise God declared to Eve in the garden of Eden and put forth through the prophets of old: The birth of the Saviour of the world. The Word become flesh. Jesus. Victory.
"I have told you these things, so that in me you may have peace. In this world you will have trouble. But take heart! I have overcome the world." John 16:33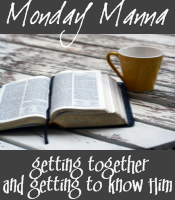 My good friend Joanne is the creator and hostess of Monday Manna. I've known her for years. and she's one amazing woman. If you'd like to chime in with your thoughts on John 1:14, or if you want to read what others have to say, or if you want to offer Jo a word of encouragement or a prayer (she needs some right now), visit her blog,
An Open Book
.
Bless you, and Merry CHRISTmas!
Catrina Bradley
"God rewrote the text of my life when I opened the book of my heart to his eyes."
Psalm 18:24 (Msg)